#1 WEBSITE ON GOOGLE. Sounds great, isn't it?
In the ever-increasing competitive SEO landscape, there are various SEO techniques that you can implement and use in your website to rank in search engines.
SEO comes with a whole new set of challenges in 2020 which can make or break your success. It is important to optimize your pages for SEO as the organic search continues to rise above other search traffic.
Ah, you want your website to rank on the first page of Google, but you are not sure how right?
Well, you just got to the right spot! Let's go through some of the important metrics that will help you rank your website rank #1 on Google (search engine) from a business point of view.
All you need to do is optimize your website to a user-friendly site with the use of strategic SEO techniques to improve your website rank.
Also, learn how to optimize search engine crawlers, and to master on-site & off-site SEO techniques in this blog.
Learn How To Optimize Your Website With 8 SEO Techniques:
Step #1: Up-to-date Google search engine algorithm
Google is continuously changing its algorithm, even though the maximum of those modifications is not publicly defined.
As per Moz estimation there are 500 to 600 changes per year!
First, you need to understand completely how a search engine works so you can improve your site rankings and get more relevant traffic to the website.
Now, there are many more ways to use Google "Quality Utmost" than before. You have heard about Panda, Penguin, Hummingbird, Pigeon, Mobile-friendly update, and more.
Read 8 top Google algorithm updates:
https://searchengineland.com/8-major-google-algorithm-updates-explained-282627
In case if you notice an unexpected drop in your site visitors and ranking while analyzing your web site information, then you might have been hit by any of these algorithms.
Step #2: Increase Page load speed
Page load speed is the most important factor to drive more traffic to your site. First of all, if the page load speed of your website is slow, Google will validate this and it will affect your site ranking.
If your website page load speed is slow, it will impact the user experience which means the way they interact, engage and value your website services.
As a result, for sure load speed will affect and hurt your website ranking.
Average page load speed for 2020 - 1s to 3s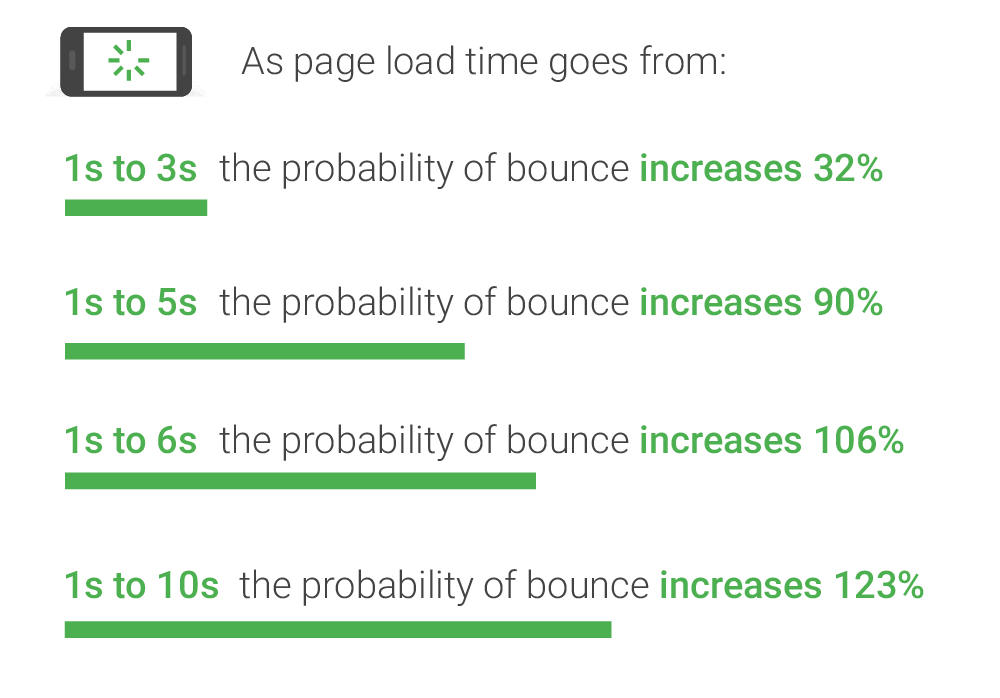 Source: Machmetrics
Learn More about page speed insights: To analyze website
https://developers.google.com/speed/pagespeed/
Step #3: Make sure your website is mobile-friendly
Gone are the days of sitting at the desk, booting up the system, and searching for the results with a keyboard and a mouse.
It is estimated that there are around 4.4 billion users on the internet connection. In reality, it has been estimated that the use of smartphones is more and increasing across the globe. This has changed the way audiences interact with websites.
It is highly recommended to optimize your website to be mobile-friendly for mobile users to attract the more internet-using population. Furthermore, it will help you to build reliability with your customers in your industry.
Benefits of Mobile-friendly site:
1. Positive ranking signal
2. Increases conversion rate
3. Improves user experience
4. Flexible & cost-effective
5. Quick download
6. Faster website load speed
7. Competitive advantage over your competitors
Is your web page mobile-friendly?
https://search.google.com/test/mobile-friendly
Step #4: Update Your Content Regularly
Content is one of the most important factors to help rank your website better in search engines. You have probably observed that you feel quite strongly about content which is unique and informative. Search engines like google and yahoo do, too.
The regular update of fresh content on your website is one the foremost indicators of a website relevance, so make sure to keep it new. Inspect your content on a set plan and make updates as required.
Content plays a vital role in SEO: Search engine crawlers love content and specifically keyword-rich fresh content.
A website that is up-to-date regularly is crawled more frequently, has more pages in the index, and a further chance to boost SEO by applying internal linking practices. It is an indication to search engine spiders that your web page or business is active and existing.
Another best way to keep the website constantly updated is to mix in various types of content in the form of:
1. Long-form blogs
2. Testimonials/Customer Reviews
3. Videos
4. Infographics
5. Webinars
6. Social media links
Step #5: Use Alt Tags
Alt tags or alternate text descriptions are one of the ways to often identify your image and video media. They allow search engines like google to discover what is essential in your web page.
One of the major intent of ALT tags is for the use of visually impaired users who use screen readers while browsing. Furthermore, ALT tags are used for those who surf the internet with photographs turned off or users who have text-only browsers.
Step #6: Fix Broken Links In Website
Having standard links on your website is one of the finest methods to uplift traffic and build the influence of your site, but links that turn to 404 error harm both your user-friendliness and your search ranking of your website.
Use a free tool like:
https://www.brokenlinkcheck.com/
Step #7: Optimize For voice search
Half of all Google searches will mainly happen through voice by 2020, according to ComScore 's research. Make sure that those voice searchers find your business by integrating likely voice search phrases into the content of your page. Also, it is recommended to use full sentences formed in a natural conversational manner other than single keywords.
Step #8: Aim for "Zeroth Position" or Featured Snippet.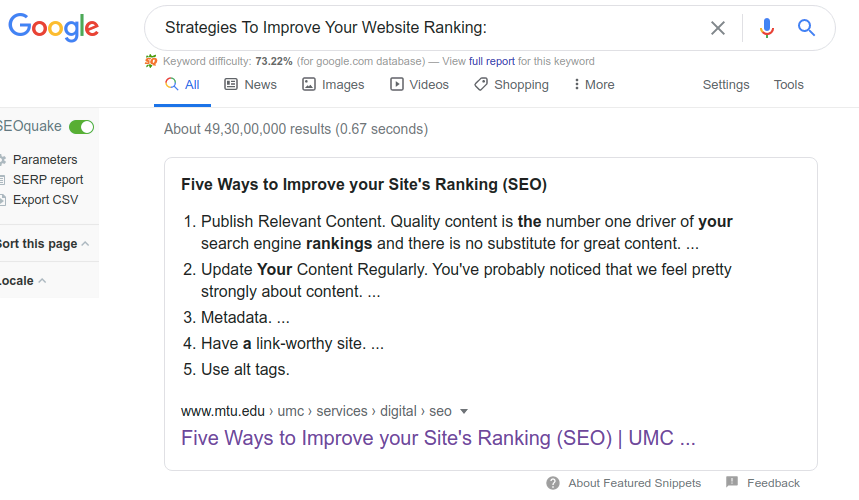 When a user searches for a question in Google Search, most of the time it takes content from a related website and shows it in a featured snippet or answer box above the #1 search engine result pages. It is termed as the Zeroth Position.
Acquiring content from a featured snippet is the best way to improve traffic (snippets include a link to the specific page from which the content originates), as well as boosting your businesses trustworthiness and visibility.
To increase the potential to get your content featured by Google as a featured snippet, think about possible business-relevant searches and provide easily understandable, non-duplicate & authoritative answers to your site's content.
However, the reality is, technical resourcefulness, commitment, determination and analytical skills are required. It is primarily true due to the constant updates & changes in Google's search engine algorithm.
Unlocking the challenges to improve Google search ranking has a certain level of mystery. But eventually, some key factors will help your website perform well.
You will need to spend the time to analyze & identify your potential audience and their needs. Research and find the long-tail keywords that are making use of to get to your site on Google's first page.
Once you have all this information, you can build user-friendly content to satisfy user needs, resolve their problems, and retain them with newly updated content to know more about your business offerings and benefits.
Keep churning out great content and endorse it with all you have got.
Use your logical skills & analyze the problems, and I guarantee you will dominate Google search engine with SEO techniques. Lather, rinse, repeat, and I promise you will rank well in Google search engine while getting away penalties from algorithm updates.
And remember that Google is constantly updating its ranking algorithms so rankings today may not be equal to rankings tomorrow.
Expect to see your site moving up and down in the rankings on a daily or weekly basis-it could even drop completely from the rankings.
Therefore SEO should always be a continuous process. To keep your website constantly SEO-optimized, hire Appiness Interactive, a company specialising in Digital Marketing in Bangalore.