Over the past decade, SEO Optimization in Website has become increasingly necessary for start-ups and MNCs as well. SEO is a great opportunity for small businesses and you should incorporate it into your marketing strategy to stay ahead of your competitors. However, many small businesses still feel that there isn't any reason to invest in SEO.
As COVID-19 is finally going to be over soon, and businesses are slowly going back to normal, businesses must start getting everything back on track and plan about generating more website traffic and improving lead generation and sales in the coming months.
According to Sparktoro, 92.96% of global traffic comes from Google search, Google Images, and Google Maps.
SEO is an important process of improving a website's online presence on search engines like Google, Bing, Yahoo, and more.
What is SEO and Why You and Your Brand Need It?
SEO is a method used to optimize the website and thus achieving a higher ranking in search engine's organic results. It is accomplished by making your website more relevant for search engines. It also enhances the website structure and technical background, making it user-friendly, faster in speed, and easier to navigate.
Can You Run Your Business Without SEO?
Running a successful business without SEO is very challenging nowadays. Your website will miss valuable traffic and lose customers to your competitors. The old-fashioned methods of handing out business cards, putting up signs, and cold calling are admirable, but if you want to run a successful enterprise, SEO is necessary to reach potential customers efficiently.
How Effective Is SEO Exactly?
Have a look at this image from Finances Online that showcases just how effective SEO can be.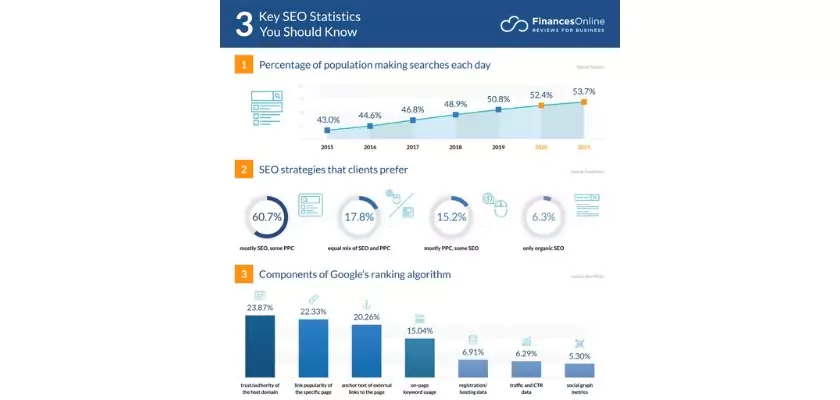 You can see that the percentage of the population making searches every day has increased year by year and is very high in 2021. The breakdown components of Google's ranking algorithm such as domain authority, link popularity, anchor text, and on-page keyword usage are ranking high on Google's algorithm.
Is SEO Important For Your Business?
The market is incredibly competitive nowadays and SEO is your only ticket to compete.
Look into these statistics for 2021 from Junto Digital:
1. 57% of digital marketers said that SEO is the most effective marketing strategy.
2. 61% of people do some kind of research online before buying anything.
3. 81% of people do online research before buying anything huge.
4. 75% of people never check the pages after the first few results on search engines like Google.
Should Your Business Stop Doing SEO Once It Has Traffic?
SEO is an ongoing job that needs to be kept up to date with current marketing trends. SEO is required for all the new content you have on your website, whether, it is new blogs, products, or website pages.
Why Is SEO Important In 2021?
The percentage of traffic resulting from organic searches has increased consistently over the last years and so did the methods businesses need to approach the SEO game. Those days are gone when you could just add some keywords in a blog post to see outstanding results several weeks later.
This is the best time to improve your SEO game. Take a look at the best new strategies that will help you rank in 2021 and beyond.
The Year Of The BERT Algorithm
Google released its most recent major search update, the BERT algorithm in 2019, to help the search engine better understand the users' online search intent. According to Google, the algorithm has impacted almost 10% of searches and has resulted in more relevant search results.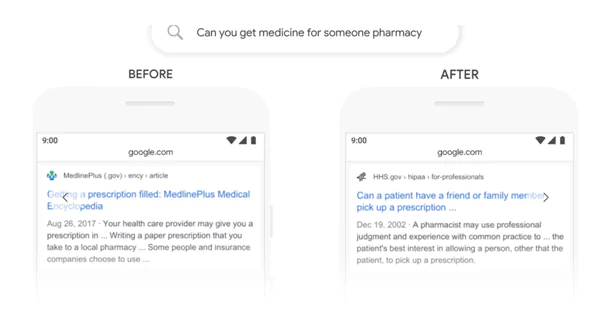 The algorithm came in October 2019 for English language queries and it will eventually expand to all languages. Currently, Google uses a BERT model algorithm to improve the results in feature snippets in many countries.
The new algorithm makes it possible for search engines to distinguish between nuances so it can provide more relevant results. User intent is the focus of the BERT algorithm and search engines are providing users with answers for their specific questions and not something based on keywords.
Optimizing Content Is More Important Than Ever
Even though SEO is very important in 2021, content is still king and always will be. Content affects everything from your site structure to your link strategy. If you need your SEO to be on point then you need to learn how to write high-quality, optimized content.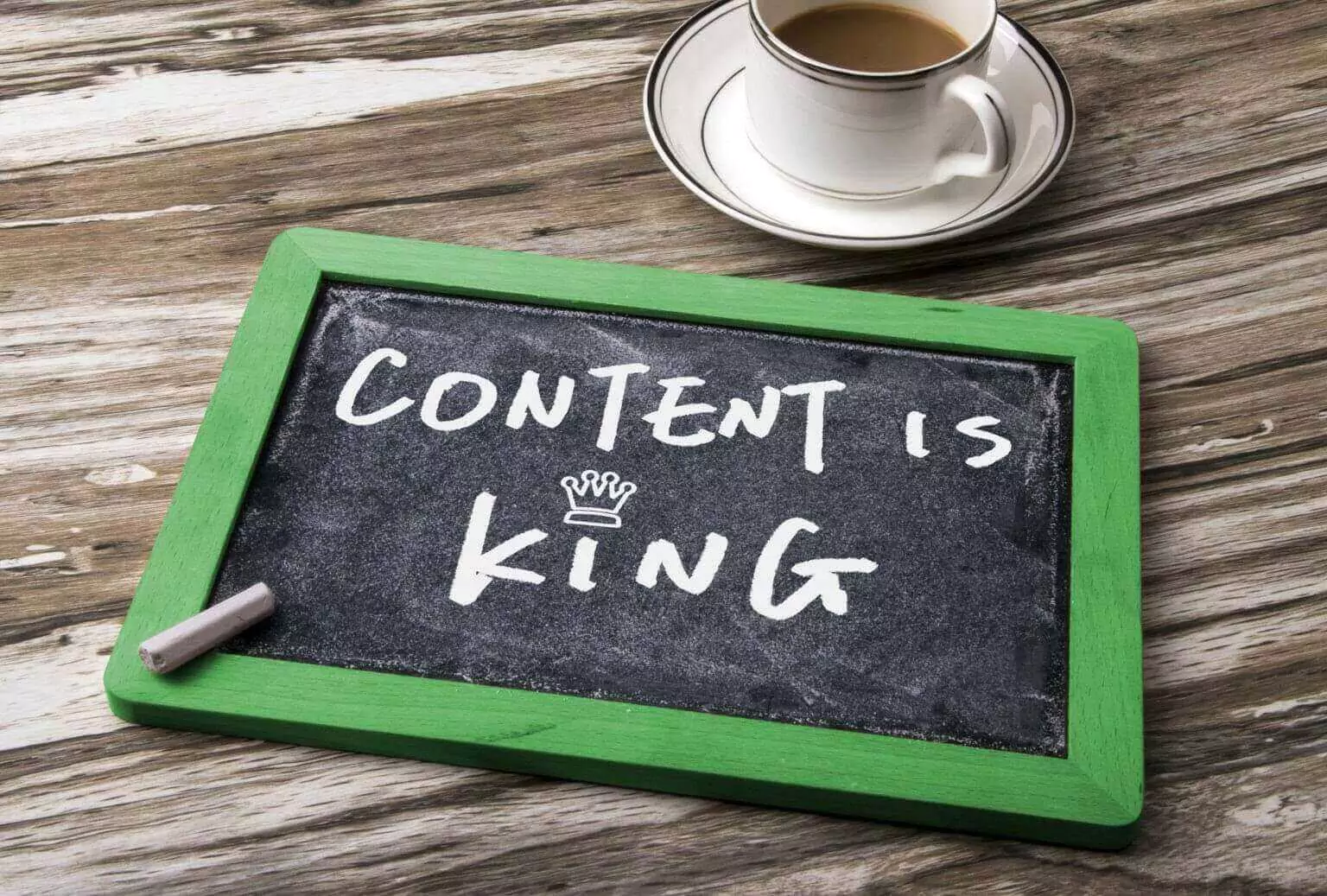 Quality content on the website will allow you to compete effectively for long-tail searches while also building your site authority.
Pages with articles that have 2000 or more words generally get more readers than shorter ones. This happens because a long article gives you enough space for the content to be comprehensive and answer all the questions a user might have.
Also, the more time users spend on a particular page of a website, the more likely Google will reward that page with more organic traffic.
Featured Snippets Are New Dominating Search Results
Featured snippets are dominating search results in the majority of niches. They are the summary of an answer that the users get in response to a search query. They are displayed at the top of the SERP result, above both organic and paid ads. Featured snippets have led to significant changes in the result pages from 2019 to 2021. According to the Ahrefs study, featured snippets are now getting more traffic than the first organic search result.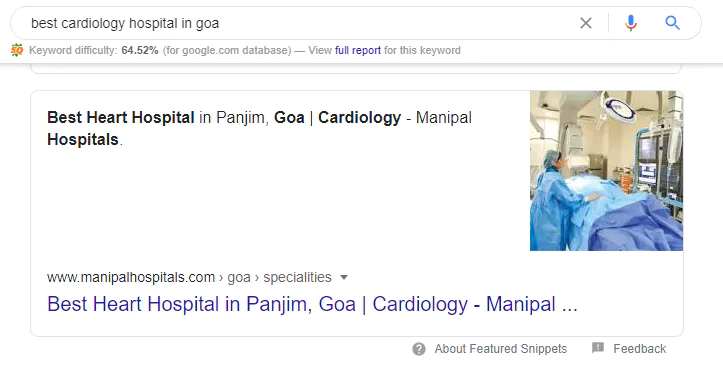 So what should you do to get the content featured in the snippets? Try to do questions based on search queries and keywords and do thorough research on questions that people ask related to the content to be able to offer them an in-depth answer.
Let me help you guys with a little terminology!
What is On-site SEO?
On-site SEO is what you do on your website directly to make it rank on search engines. It means all your content should have meta descriptions, tags, and categories based on keywords and your targeted audience. It also means that you should have the right amount of content on every aspect of your website.
Here are a few factors one should look into when dealing with SEO:
1. The meta description should not be too long.
2. Content length should not be too short.
3. Closely look into the words you use for the titles of my products.
4. Write a good alt text for your images.
5. See if the readability of the site is good to target the audience.
6. Avoid overusing or under-using the keywords in the content.
7. Keep a check the load speed of your website.
8. Have a good user interaction on the website to keep people from leaving.
Those are the few aspects of on-site SEO, but there are many more. All the search engines take into account all of those details and it is all-important business.
What is Off-site SEO?
Off-site SEO encompasses all that you do off your website to have it rank better on search engines. Social media, podcasts, reviews, forums, guest blogging, Q&A, and more are considered off-page SEO. Off-page SEO is an essential part of growing your business. The more platforms you have your quality content on, the more people will reach you and click on your website, and the better it will rank on search engines.
Conclusion
Search engine optimization (SEO) is going to be important for a long time to come. SEO takes some time to kick in, so it's important to plan and create a strategy for your business. By writing and promoting content tailored to your audience and optimizing your website's longtail, high-traffic keywords, and doing efforts to be featured in Google's snippets, you can boost the brand authority online and also expand your search.
Our team at Appiness Interactive specializes in SEO services and has worked with well-known brands with a strong digital presence. If you are looking for a digital marketing agency which provides SEO services in Bangalore, then contact us. We will help you increase your organic leads and overall revenue.
Do you think it is a sound investment?
Contact us today to discuss the best methods to make your business thrive through the power of SEO. We will provide you a tailor-made SEO Service in Bangalore to cater to your all digital marketing needs.