Monthly SEO reports are an essential part of any SEO scheme because SEO reports deliver an outlet to educate customers, show ROI, and guide the conversion for upsells.
While SEO reports are important in many forms, they are usually reduced to ordinary PDF templates sent to clients each month with a generic message. If this describes your SEO reporting strategy then you're missing out on key opportunities to keep clients and upsell with carefully crafted SEO strategies.
SEO reporting has always been an important part of your deliverables. Whether you're working with clients through your agency or working in a corporate team. You will find that good reporting creates a huge difference between trust-building and overall strategy.
So it is important to incorporate SEO reports into your systematic rhythm if you are struggling to keep a client or just want a way to engage with your clients in a deeper way. Now, more than ever we need to show the values to the client we bring to the table.
So, let's have a look at all useful things SEO reports should include, and how you can use storytelling strategy to build a relationship with your clients, prove your strategies' value, and uncover upsell opportunities today through nothing but an effective guide to SEO Reporting.
#1. Organic impressions, clicks, and CTR
Organic CTR is also known as "Organic click-through-rate", is the percentage of searchers that click on SER (Search Engine Result). It is mainly based on ranking position but is also affected by a result's title tag, description, URL, and presence of Rich Snippets.
While SEO has a wide reach, you need to get the right message to the right people if you want them to click through to your content and convert.
This is why a good SEO report should involve high-level metrics such as organic impressions and clicks. While this information doesn't give much insight into on-page performance, it does offer a jumping-off point for you to talk to your client about changes in market trends and user behaviour.
#2. Keyword ranking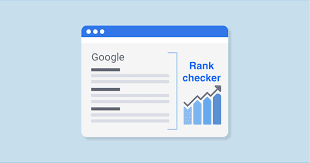 Source: sitechecker.pro
The most visible result of your SEO strategy is how many keywords you can get your client's site to rank for in Google search. It's only with higher keyword rankings that you can reach the ultimate goal of creating more organic traffic from SERPs.
So, if you can rank your client site for tens or hundreds or even thousands of keywords, then your SEO strategy could be considered a success!
Keyword ranking report is a must part of the SEO report to help communicate to clients how their sites are performing in terms of SEO.
The keyword ranking report should include these things:
Keywords that have gone up
Keywords that have gone down
New keyword rankings
Competitor keyword comparison
#3. Describe how people engage with the content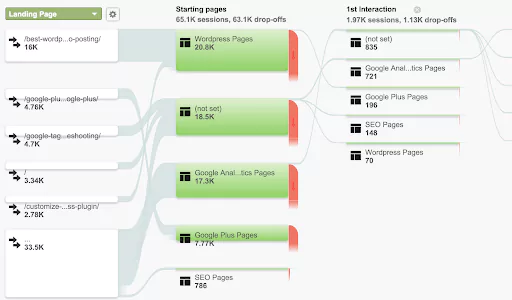 Source: moz.com
It is your job as SEO professionals to connect the dots for clients whenever possible between SEO metrics and their business goals. Factors like customer journey, website performance, and user intent influence how search engines rank content and more importantly influence conversion rates.
SEO is conceptual and difficult for clients to understand which is why it is necessary to include concrete terms, visuals, and explanations in your reports for trust-building measures.
Use your SEO reports to talk through different aspects of their business like:
Categorize content on your site and assign specific metrics and goals for clients.
Track content based on topics and what content moved through the customer journey.
Use content Drill Down in Google Analytics to show how readers moved through the website.
Have a conversation around other SEO tactics like interlinking, blogging, and on-page optimizations.
Showing the client how people engage with the website is a key part to increase education and help visualize how SEO work impacts a client's website.
#4. Google Analytics Events
Google Analytics and Google Tag Manager are used to show how SEO and CRO strategies impact user behaviour when they reach the website. Educate customers about on-page SEO by tracking clicks on specific CTAs throughout individual pages.
Focus on how people engage with their CTAs. To show this you have to connect Google Tag Manager and Google Analytics to show that your optimizations push more website visitors to valuable pages like contact form and sales pages.
#5. Add local SEO info
Local SEO is a very important part of an SEO strategy to gain qualified leads and sales for local business owners. There are tools like Moz Local to keep NAP (Name, Address and Phone Number) and listings consistent for the clients.
Local SEO services also provide a way to pitch other services like outreach, page optimizations, and blogging and point out the metrics that matter to business owners like phone calls, foot traffic, and driving directions!
Conclusion
Monthly SEO reports help paint a picture of the SEO efforts we made for the clients. It also shows the value of the SEO services and keeps clients longer if you know how to tell a story around each metric. Always have the option to compare timeframes: month to month, quarter by quarter, year by year, campaign by campaign, etc.
Appiness Interactive is the most well-known SEO firm in Bangalore, India that provides SEO services to clients from around the world. Our highly experienced SEO experts help you get on the first page of a Google Search Engine Result Pages.